AI Chatbot
beta
Create custom AI chatbots and take action with built-in automation—no coding required.
Try it free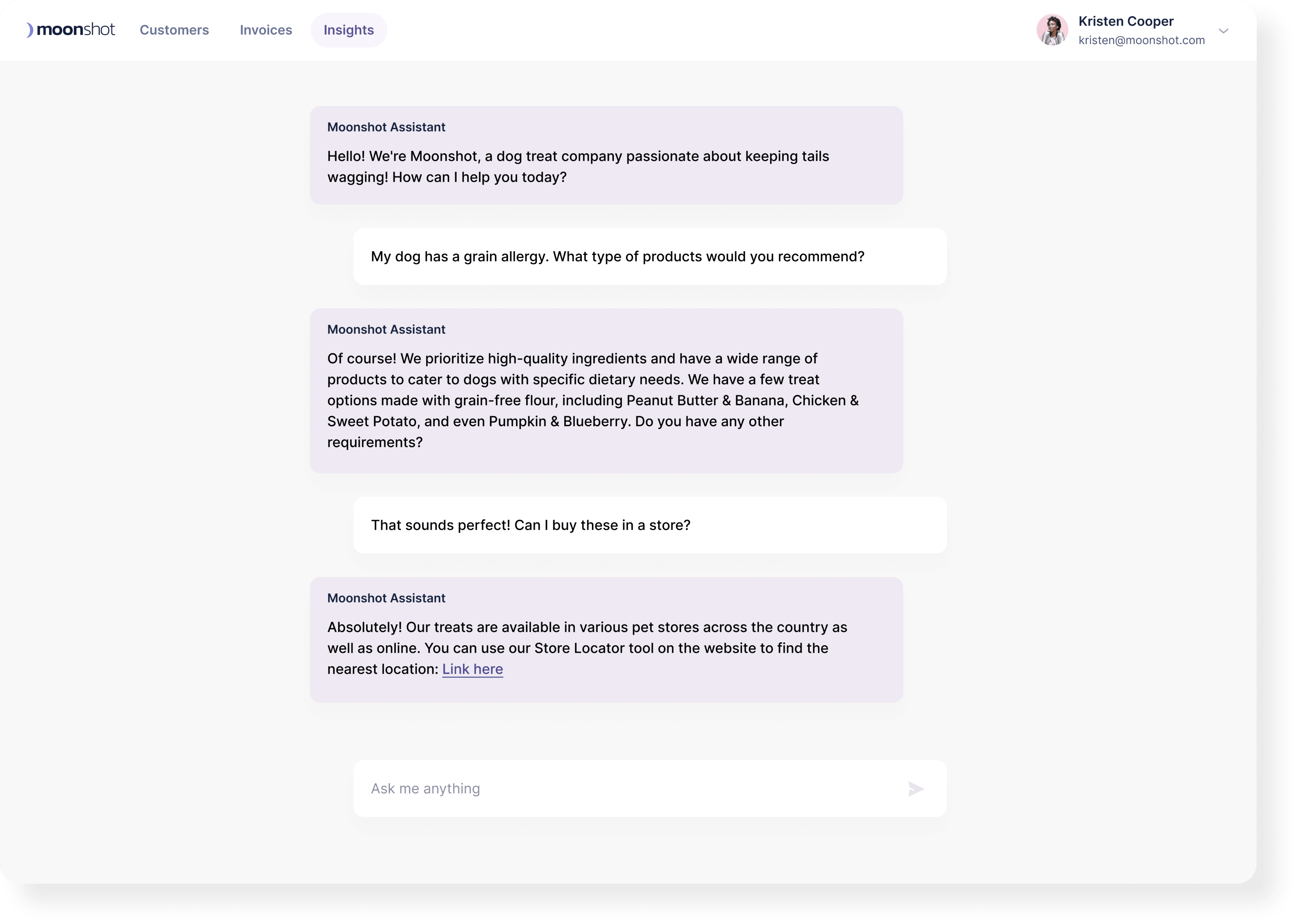 Easy to build
Interfaces—our no-code app builder—lets you easily create and launch your own custom chatbot in minutes.
Connect (and control) your data
Combine your own data with the power of OpenAI models to generate on-brand responses—while controlling what your chatbot can use.
Align the chatbot with the look and feel of your brand. Then easily share it with a direct link or by embedding it directly in your site.
Build a custom AI chatbot powered by GPT-3.5 for free
Tell it what to do
Name your chatbot, add a custom greeting, and give your bot a role. You can teach it how to respond to users, and set the rules of engagement—all in a few sentences.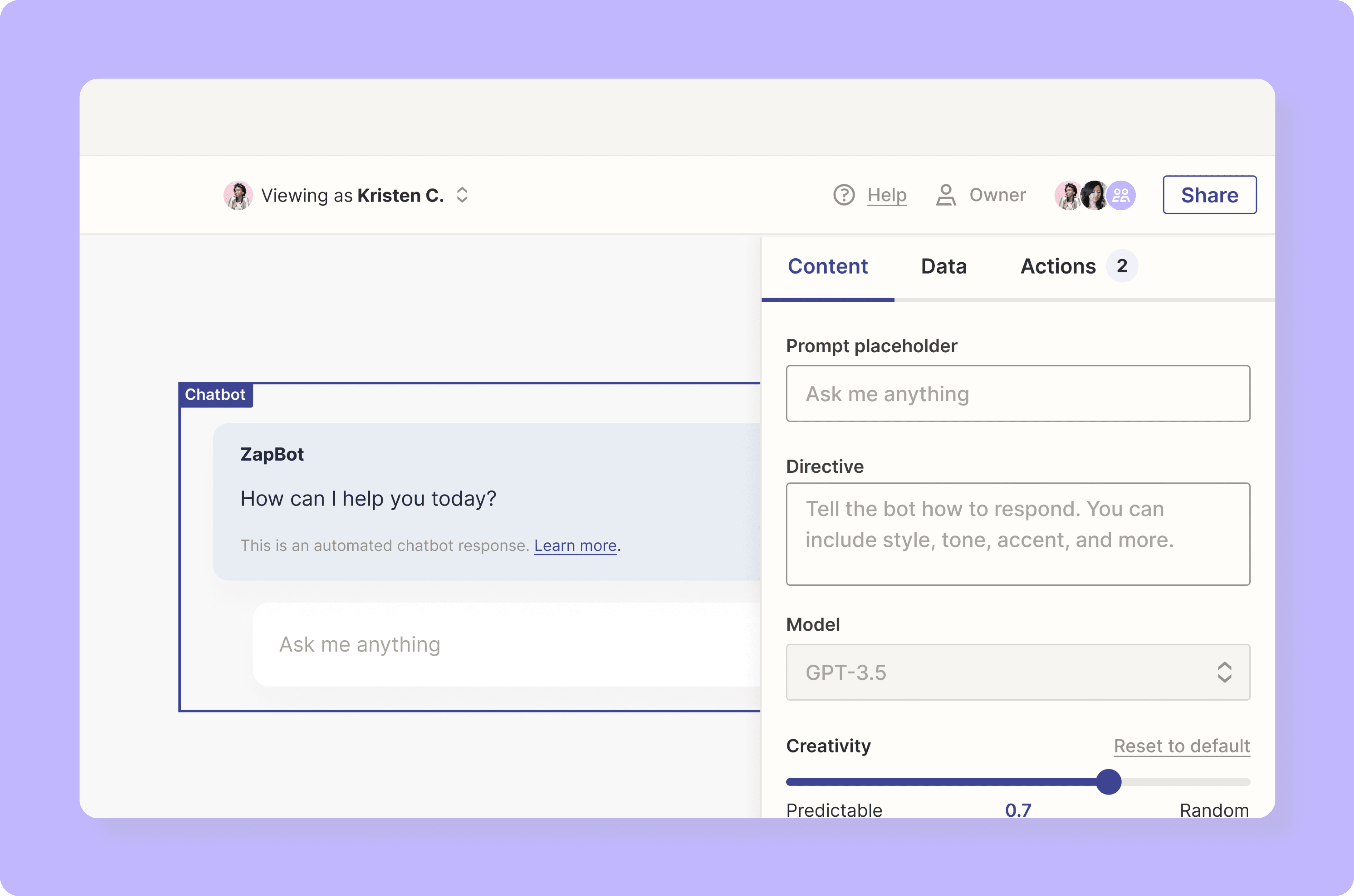 Connect your knowledge sources
Connect your chatbot to your own knowledge sources to tailor the responses for your business or project. Restrict your chatbot from using outside data sources and set custom responses when information doesn't exist.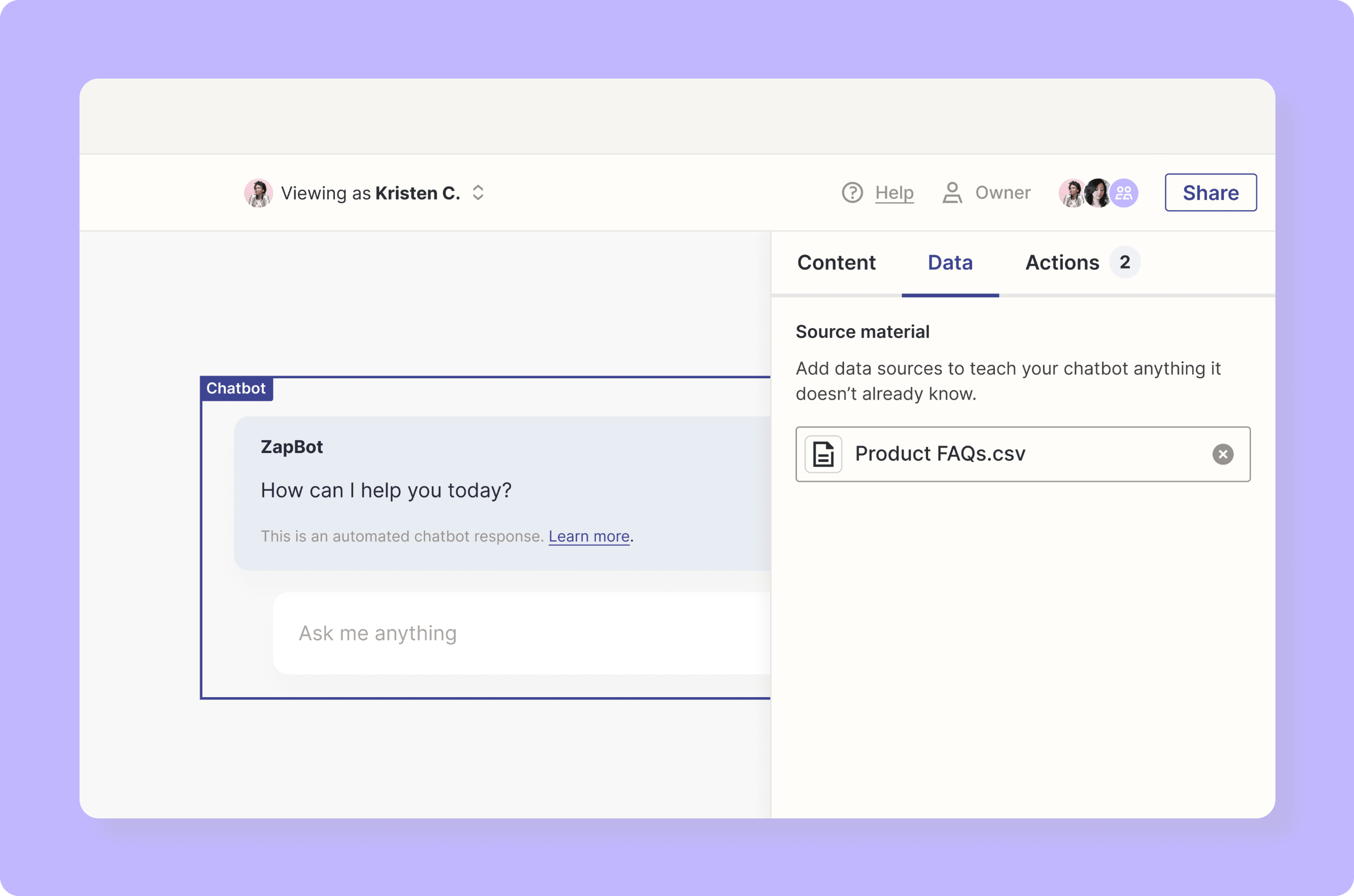 Securely share your chatbot
Personalize the look and feel to match your brand, then share it with a link or embed it on your website. Set access permissions, including restricting by email or password.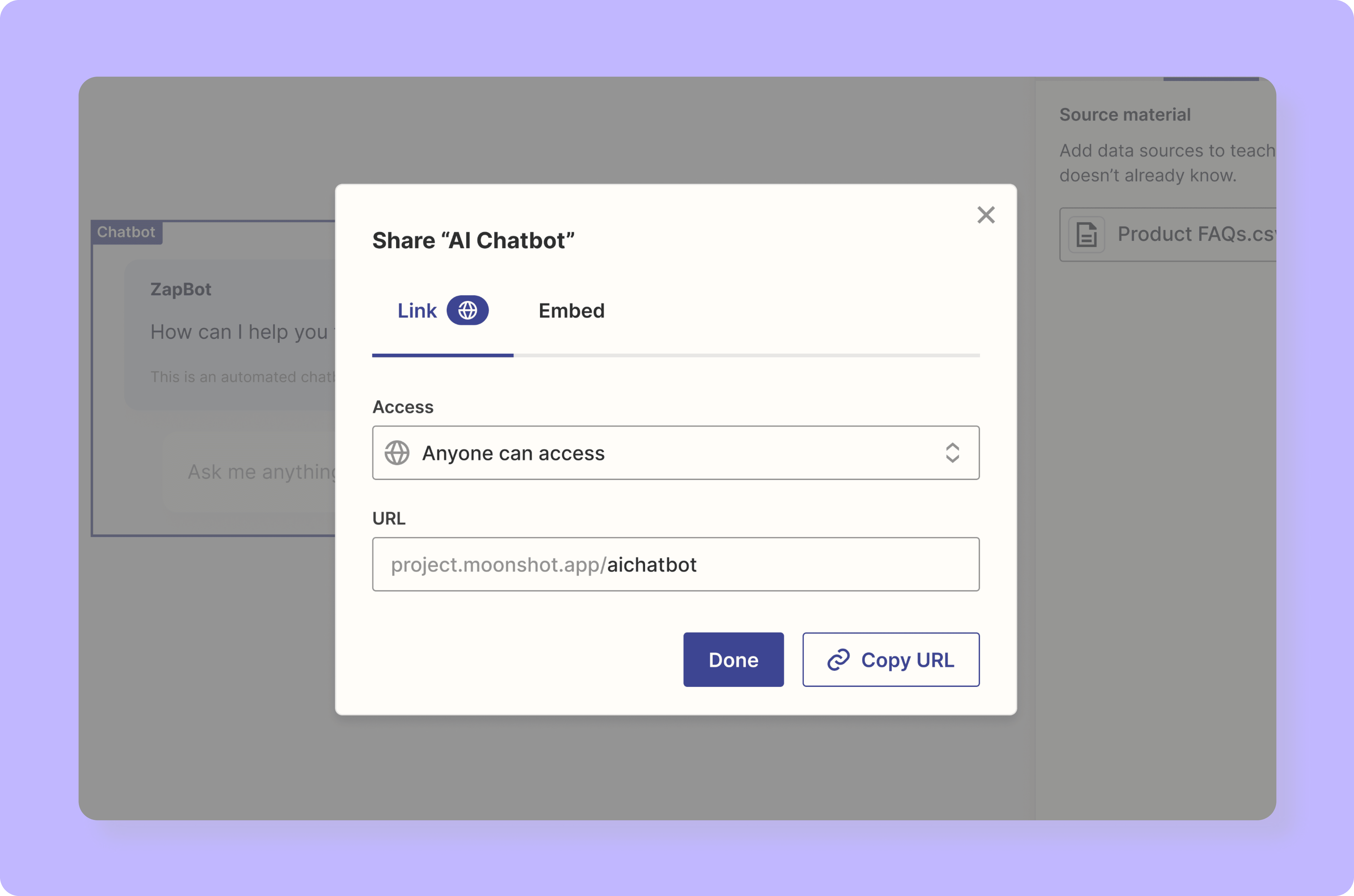 Try Zapier AI Chatbot for free
Customize your first chatbot and drive business-critical workflows with Zapier.
Sign up now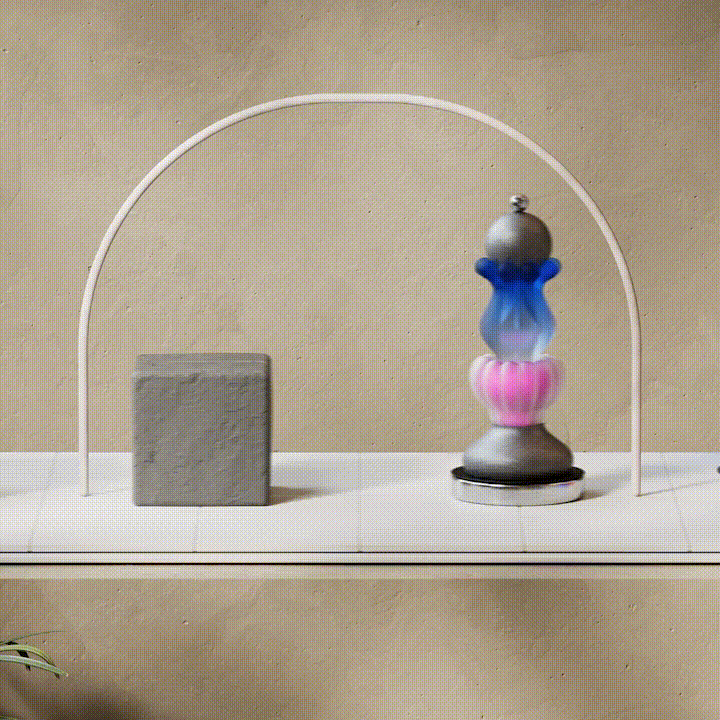 Get started with templates
Build your first AI-powered chatbot in minutes with free, customizable templates.
FAQ
How can I try Zapier AI Chatbot?

You can build your own AI-powered chatbot through Zapier Interfaces, our no-code, automation-powered app builder currently in beta.

All you need is a Zapier account to get started.

Sign up for free
How is AI Chatbot different from other options out there?

Zapier AI Chatbot is powered by automation, so you can create custom chatbots with your own prompts and connect them to your Zaps—no code needed.

You also have a variety of sharing options, so you can embed chatbots on your website or limit access to your team or external stakeholders.
Which AI models are available?

The base AI Chatbot model is GPT-3.5. With Interfaces Premium, you can connect to other models (like GPT-4) using an API key from your personal OpenAI account.
Can I share chatbots?

You can share a chatbot through a direct link. Website embeds and other sharing options are available with Interfaces Premium.
Can I train my chatbot using my own data?

You can upload a static .txt, .csv, .doc, .pdf or .json text file and customize how your chatbot uses it.

You can also connect your chatbot to Zaps and automate actions such as sending responses to another app or collecting chatbot feedback.

We're constantly adding additional connections to static and live data sources.

Request a data connection here
How much does AI Chatbot cost?

AI Chatbot is free to start within Zapier Interfaces, where you can create and share your chatbot, automate actions, and access other interactive components.

Interfaces Premium gives you advanced customization and configuration options, such as custom branding, data sources, connections to additional OpenAI models, custom permission levels, and more.

Interfaces Premium is an add-on purchase for any Zapier plan.

Check out our pricing page to compare features.
Where can I learn more about using AI Chatbot?